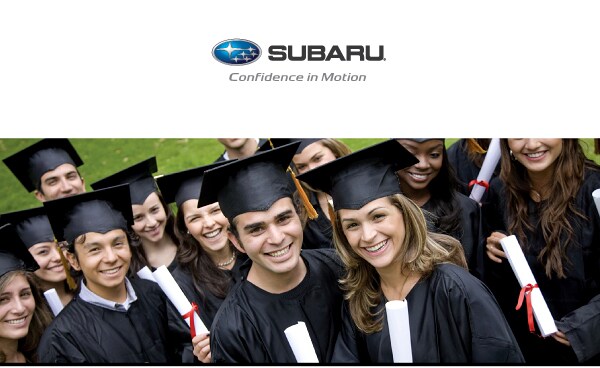 MODESTO SUBARU COLLEGE GRADUATE PROGRAM
Recent and soon-to-be graduates can apply to finance or lease a new Subaru vehicle under a College Graduate Program for leases and loans approved through Subaru Motors Finance. In addition, all qualified applicants are automatically eligible for any special lease or retail offers currently available.


The real world is finally upon you, and the time has come to step in to your new shoes. What better way to ring in the new life you will be leading in the "real world" than a brand new Subaru. Of course, it goes without saying that not every recent graduate has the funds necessary to purchase a brand new car. That's where Modesto Subaru can help.

We offer outstanding programs for recent graduates to help get them into the car of their dreams. You have paid your dues over the past four years and now you deserve your reward. That reward may come in many forms, such as a wonderful new job suitable to your skills, or a new home that is as far away from campus as possible. But there is one thing that you will need to get from that beautiful new home to your amazing new job; a brand new Subaru.

Put the past behind you, and with it the long all-night study sessions, cheap ramen, and stop putting money into that defective car that might otherwise be known as a lemon. Let us help you, because we truly believe that no one is more deserving than our educated youth.

---
Vehicle Eligibility

All new Subaru Models are eligible.

Customer Eligibility

Applicant must be graduating within 6 months or who have graduated within up to 24 months from date of application with a Bachelor's, Master's, or Associate Degree from an accredited 2 or 4 year U.S. College, Graduate School (including Doctorate) or Nursing School.

Applicant must provide proof of graduation:


For the student who will be graduating within the next 6 months, either:
                1. A letter from the registrar's office stating graduation date and type of degree
                2. A copy of final transcript that states type of degree and date earned
For the applicant who has graduated within 24 months from date of application: a diploma.
No derogatory credit history, past or present.
For joint applications, both applicants must meet all program eligibility requirements.
Program eligibility is subject to Subaru Motor Finance's review of documentation and verification before funding; additional documentation may be required.
Employment/Income

Applicant must have proof of employment and income. If employment has not yet started, a letter from the future employer that shows a date within 90 days of current date and salary is required, along with verbal verification from current of future employer.
Product Parameters

Maximum Terms: 72 months on Retail and 48 months on Lease
Maximum Advance: 115% of invoice on Retail and 100% on Lease
Maximum booked LTV with aftermarket cannot exceed 125% of invoice for retail or 100% of MSRP for lease
Maximum Amount Financed of Maximum Capitalized Cost is $25,000
Pricing

Standard rates apply. Retailer participation is allowed according to the applicable Product Reference Sheet or program sheet.
May be used with applicable Subaru Motors Finance Manufacturer special programs. See current program sheet for details and markup guidelines.

1 The College Grad Program cannot be used in conjunction with the Mobility Equipped Program. Not available on contracts submitted to Chase Custom Finance.

Note: All applications subject to credit approval by JPMorgan Chase Bank, N.A. through Subaru Motors Finance (SMF) and programs may change at any time. Not all programs available in all states. All financing on approved credit.

Information provided by subaru.com and available through Subaru Motors Financing.