The 2021 Subaru Love Promise Customer and Community Commitment Award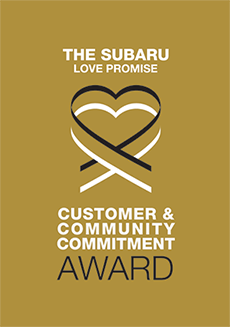 We've been nationally recognized for our dedication to our customers, our community, and the Subaru Love Promise.
We're honored to receive the 2021 Subaru Love Promise Customer and Community Commitment Award. This award nationally recognizes elite Subaru retailers who provide an exceptional customer experience at every interaction with Subaru. These retailers have also demonstrated an outstanding commitment to supporting passions and causes in their local communities in important areas such as the environment, community, health, education, and pets.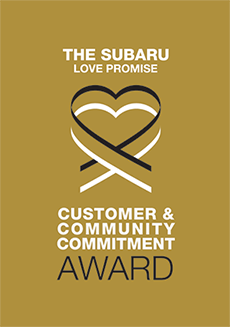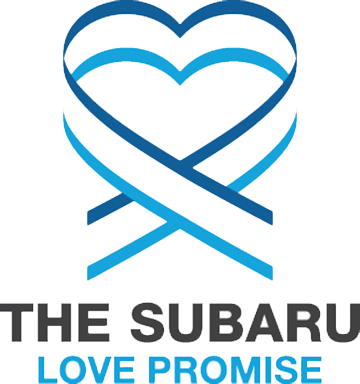 What is the Subaru Love Promise?
Subaru and our retailers believe in making the world a better place and the Subaru Love Promise is our vision of respecting all people. This is our commitment to show love and respect to our customers and to work to make a positive impact in the world.
How is Modesto Subaru dedicated locally to the Love Promise?
At Modesto Subaru, our Love Promise can be seen in various partnerships with local charities,non-profits and community organizations. We're grateful for the opportunity, not only to be a part of our community, but to serve it as well.
Kate's Rescue for Animals
Love Modesto, La Loma Native Plant Garden
Somerset Middle School, Howard Training Center , Stanislaus Partners in Education , Stanislaus County Education Foundation, Great Valley Museum, Modesto Composite High School Race Team
The Center for Human Services, Modesto Symphony Orchestra , Make-A-Wish of Central California, Cricket's Hope, The State Theatre , The Juline Foundation for Children, Modesto on Ice, The We Care Program, Turlock
The Haven Women's Center of Stanislaus, Valley Children's Hospital
Love Promise Stories from Modesto Subaru
Subaru and Modesto Subaru believe in making a positive impact on the communities in which we live and work. We uphold that belief through our Love Promise Community Commitment. Every month, we select inspiring stories from customers and partners from around our area who strive to support our collective commitment and feature them here
Modesto on Ice presented by Modesto Subaru - Kathy H
Originally brought to Modesto by the Murray's, Modesto on Ice is a seasonal outdoor ice-skating rink that opens mid-November and runs through the end of January each year. At the end of the skate season in 2019 the Murray's sold the ice rink to the Kathy and Dave Halsey, two champions of Modesto. The Halsey's were excited to keep the Modesto on Ice tradition going after so many years. Needless to say, they were beyond disappointed when finally making the decision to cancel last year's opening due to the pandemic. After a year hiatus, Modesto on Ice presented by Modesto Subaru is back for its 6th season! On November 18th, 2021, sponsors, city officials, community members and friends once again gathered under the tent on the corner of 11th and K Street to commemorate this joyous event. Feeling so much like a reunion of friends, the night was full of good music, food, drink, smiles, tears (happy ones) and celebration. Modesto on Ice presented by Modesto Subaru brings tens of thousands of community members together each year. It is a place to gather, to make memories, to begin and continue traditions and experience the joy of the holiday season. Without Modesto Subaru and their ongoing support (6 years of it!), none of this would be possible. Modesto Subaru – More than a car company. #SubaruLovesModesto
---
Make A Dog's Day Adoption Event - Crickett B
Kate's Rescue is so honored that we were invited to participate in the National Make a Dog's Day adoption event this year. We absolutely love our local Modesto Subaru Dealership. It is always fun to share stories about our dogs with the staff and the local community and give exposure to our special needs pups who are either ready for adoption or on the road to recovery. The Modesto Subaru dealership team has been so amazing with their support of our adoptions and helping the animals in need in our community. This event gives our dogs exposure and the opportunity to find their forever homes. This year we had the opportunity to showcase our Matchmaking program to help families find the perfect new addition to their family and help our pups find their perfect home. We may not have the perfect dog you are looking for at the time, but we will find it for you. These adoptions show it is always worth the wait. This event gave us the opportunity to showcase a special guy named River who right now, because of his exposure at the event, has a list of potential adopters wanting to meet him. We are forever grateful to Modesto Subaru for their continued support.
---
Somerset Middle School loves Modesto Subaru! - Scott F
Somerset Middle School is so fortunate for the generous donations from Modesto Subaru. Their donations have provided countless school supplies for our students including binders, dividers, notebooks, sporting equipment..etc. Modesto Subaru is huge supporter of our STEAM program and has donated informational texts to support science and technology in all subject areas. This year, Modesto Subaru, donated 10,000 dollars to support the integration of STEAM at Somerset Middle School. Jessica and Chris Godden have gone above and beyond as our community partners. The donations are awesome but what makes them truly unique is that they often check in with Somerset to see how they can further support us. Modesto Subaru's dedication and support towards the staff and students of Somerset is unparalleled and greatly appreciated. Modesto Subaru is so giving and truly wants to give back to the citizens of Modesto. We are so thankful for all of their generous donations to our students and staff. Thank you Modesto Subaru!
---
Pooches, Popcorn, and a Movie - Michelle R - Lisa R
It's so heartwarming to receive donations from businesses in the community, but Modesto Subaru went above and beyond when they organized an entire fundraiser for Kate's Rescue for Animals. Modesto Subaru put on a unique fundraiser that allowed dogs and their people to come into the State Theatre and stay throughout the entire movie! You might think it would be chaotic and loud, however, the dogs were on their best behavior, and it turned out to be an amazing event. Pet supporters came out in full force with their furry kids in tow. For a few hours, we could forget about everything happening in the world and just focus on our shared love of pets. The staff at Modesto Subaru thought of everything from raffle prizes to a pre-movie dog training demonstration by Sit Means Sit. In attendance were large dogs and tiny dogs, all enjoying their movie theater experience. A few pooches were seen enjoying the popcorn their people "accidentally" dropped and a few dogs were seen actually watching parts of the movie. It helped that the movie was 'The Secret Life of Pets' - a can't miss movie for pet lovers and their furry family members. We at Kate's Rescue can't boast enough about the success of this fundraising event put on by Modesto Subaru. The funds raised are crucial to our mission of helping the animals in our community and we are beyond grateful!
---
Modesto Subaru Loves to Help We Care - Debbie G
The We Care Program in Turlock offers emergency shelter, permanent supportive housing and homeless prevention assistance. Each night the We Care emergency shelter can feed and house up to 49 men. Unlike many area shelters, the clients who stay at We Care are afforded a little privacy as most of the rooms have only two beds. While at other shelters you may be kept awake at night by snoring, or for security and safety reasons, the clients who stay here are reassured a quiet and secure nights sleep. Also unique to We Care, each client earns their stay by performing their assigned "chores" each evening immediately following dinner. Chores range from cleaning up the kitchen, sweeping the halls or wiping down the walls. We Care relies on the generosity from the community for funding, clothing, food, food service, and other resources. The community is encouraged to sign up to not only serve dinners 7 nights a week but to fully fund them as well. If there is ever a night the community can't cover dinner service, the amazing staff (such as Tony in the photo) and volunteers step in to do the job! This is the second year that Modesto Subaru has selected the We Care Program in Turlock as their local shelter. On Wednesday, November 10th, Modesto Subaru took their sprinter van down to drop off 80 super cozy Subaru fleece blankets and an entire box full of socks. In addition, Modesto Subaru donated two tubs full of gently used men's clothing, pots and pans and even a bike! These donations will go a long way in supporting the We Care mission to provide transitional and emergency shelter, day center resources, and in collaboration with other agencies, support services to assist homeless individuals in becoming self-sufficient.
---
Art of Hope Event Sponsor - Cindy S
Cricket's Hope has an annual event entitled The Art of Hope that showcases our Art Restores Kids program. Children's work from our program is interpreted by local artist and then exhibited for sale to our donors. This year Subaru surprised us with our top level Rembrandt sponsorship! This sponsorship is an very generous sponsorship that allowed us the opportunity to raise much needed dollars for our Art Restores Kids program. Cricket's Hope offers trauma informed art class for kids suffering from domestic violence, child abuse, neglect, sexual assault or other trauma. We are so grateful to have Subaru as part of our family and efforts so help children heal from their lives unfortunate circumstances. Bravo! Thanks for all you help!
---
Cozy Sweatshirts for Kids Camping - Cindy S
Modesto Subaru was our sole Sweatshirts sponsor for our 2021 Camp Cricket's Hope season. We are so grateful for their participation and they were incredibly generous to offer such a wonderful offering that kept our kiddo's warm and cozy throughout their camping experience and beyond. Cricket's Hope provided camp three weeks this summer for 68 kids that have been affected by trauma. Subaru you are the very BEST in supporting our community and meeting the needs of our kids. A HUGE thank you!
---
Subaru Loves The Great Valley Museum - Larry H
Thank you Modesto Subaru for your sponsorship of our recent Casino Night fundraiser. It will help us educate the 50,000+ school kids who interact with us each year. We are the Valley's premier Natural Science Museum located in the Science, Math, Engineering Center on the Modesto Junior College West Campus. Your donation will help us keep our museum curriculum up to date for these young people as well as to update our planetarium and our unique Science On A Sphere.
---
Kate's Rescue and Make a Dog's Day Adoption Event - Lisa R
We were honored and delighted to be invited to participate in the National Make a Dog's Day adoption event this year. We absolutely love our local Modesto Subaru Dealership. They have been involved in many hometown charities and have built numerous ties to the community, including longstanding ties with our rescue. The Modesto Subaru dealership team has been amazing in standing with us to support adoptions and helping the animals in need in our community. At the Make a Dog's Day adoption event, they were supportive in assisting us in developing a program for the event and setting it all up. These lovely people truly care about the animals in our community and demonstrate their beliefs through action. At the adoption event we had the opportunity to offer a special program designed to help people with pets that have separation anxiety. The Cupcake Lady and The Yogurt Mill were also invited to the event and provided mini dog-friendly cupcakes to all the adopters and the foster doggies in the rescue. We had fun play stations for the dogs and everyone had a great time. The event even resulted in some really amazing adoptions. We are forever grateful for this wonderful group of people who make all of our combined events so enjoyable and successful.
---
Modesto Subaru gives back in a big way! - Sandy S
A few weeks ago, The We Care Program - Turlock was surprised and humbled to receive a generous donation from Modesto Subaru. We REALLY felt the love. The We Care Program operates a homeless shelter in Turlock, CA. We also having housing programs that provide low income housing to some of the Central Valleys most vulnerable populations. The money from Modesto Subaru will be used to house two different households into our Rapid Re-Housing Program and make sure a separate household does not lose the home they are in now. In additional to the financial donation, the folks from Modesto Subaru provided the homeless men at the shelter will fleece blankets and some other toiletries. Thank you for your generosity!
---