The 2021 Subaru Love Promise Customer and Community Commitment Award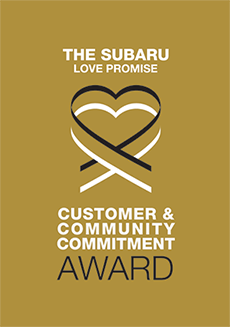 We've been nationally recognized for our dedication to our customers, our community, and the Subaru Love Promise.
We're honored to receive the 2021 Subaru Love Promise Customer and Community Commitment Award. This award nationally recognizes elite Subaru retailers who provide an exceptional customer experience at every interaction with Subaru. These retailers have also demonstrated an outstanding commitment to supporting passions and causes in their local communities in important areas such as the environment, community, health, education, and pets.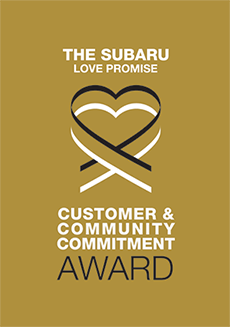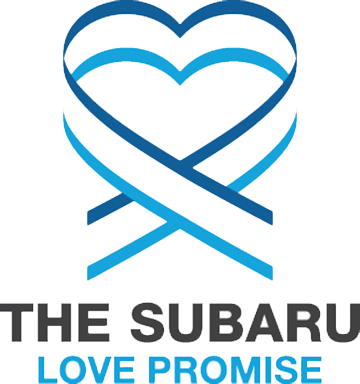 What is the Subaru Love Promise?
Subaru and our retailers believe in making the world a better place and the Subaru Love Promise is our vision of respecting all people. This is our commitment to show love and respect to our customers and to work to make a positive impact in the world.
How is Modesto Subaru dedicated locally to the Love Promise?
At Modesto Subaru, our Love Promise can be seen in various partnerships with local charities,non-profits and community organizations. We're grateful for the opportunity, not only to be a part of our community, but to serve it as well.
Kate's Rescue for Animals
Love Modesto, La Loma Native Plant Garden
Somerset Middle School, Howard Training Center
The Center for Human Services, Modesto Symphony , Interfaith Ministries of Greater Modesto
The Haven Women's Center of Stanislaus, Sutter Health Memorial Medical Center
Love Promise Stories from Modesto Subaru
Subaru and Modesto Subaru believe in making a positive impact on the communities in which we live and work. We uphold that belief through our Love Promise Community Commitment. Every month, we select inspiring stories from customers and partners from around our area who strive to support our collective commitment and feature them here
Kate's Rescue and Make a Dog's Day Adoption Event - Lisa R
We were honored and delighted to be invited to participate in the National Make a Dog's Day adoption event this year. We absolutely love our local Modesto Subaru Dealership. They have been involved in many hometown charities and have built numerous ties to the community, including longstanding ties with our rescue. The Modesto Subaru dealership team has been amazing in standing with us to support adoptions and helping the animals in need in our community. At the Make a Dog's Day adoption event, they were supportive in assisting us in developing a program for the event and setting it all up. These lovely people truly care about the animals in our community and demonstrate their beliefs through action. At the adoption event we had the opportunity to offer a special program designed to help people with pets that have separation anxiety. The Cupcake Lady and The Yogurt Mill were also invited to the event and provided mini dog-friendly cupcakes to all the adopters and the foster doggies in the rescue. We had fun play stations for the dogs and everyone had a great time. The event even resulted in some really amazing adoptions. We are forever grateful for this wonderful group of people who make all of our combined events so enjoyable and successful.
---
Modesto Subaru gives back in a big way! - Sandy S
A few weeks ago, The We Care Program - Turlock was surprised and humbled to receive a generous donation from Modesto Subaru. We REALLY felt the love. The We Care Program operates a homeless shelter in Turlock, CA. We also having housing programs that provide low income housing to some of the Central Valleys most vulnerable populations. The money from Modesto Subaru will be used to house two different households into our Rapid Re-Housing Program and make sure a separate household does not lose the home they are in now. In additional to the financial donation, the folks from Modesto Subaru provided the homeless men at the shelter will fleece blankets and some other toiletries. Thank you for your generosity!
---
Love Our Neighbors Loves Modesto Subaru! - Gloria M
We love partnering with Modesto Subaru because they love the citizens of Modesto! Rosemary is a 92-year-old retired nurse living alone and needed help with her lawn. She survived cancer at 70 and feels so blessed because Chris and Jessica from Modesto Subaru stepped up and helped Rosemary with the upkeep of her yard. They loaded a lawnmower into their car (not a truck!) every week and mowed her lawn. Rosemary feels like she's "died and gone to heaven" because of the generous hearts of Chris and Jessica loving their neighbor.
---
Jesse Hernandez was outstanding! - Lorna I
Last month my husband and I had only come into Modesto Subaru to talk about our options after our lease was ending. We were not planning on making a purchase nor another lease. We met with Jesse, who my husband had contacted through a phone call and subsequent emails. Jesse was not pushy (which I appreciate because I hate buying/leasing cars). My husband wanted to see your Ascent...Jesse suggested we drive one. We loved it. He answered all of our questions without pressure. We found we could manage a lease of the Ascent and later purchase it. We decided to do just that because of Jesse. He has since called us to see if we were satisfied and offer any assistance, should we need anything. We feel, besides the fact we like Subaru's, Jesse sold us on the Ascent and is a great asset to your sales floor. Sincerely, Lorna I. and Dennis T. Turlock, CA
---
Kate's Rescue loves Modesto Subaru - Julia S - Lisa R
The generous donation from Subaru's Share the Love Event has had a tremendous impact on Kate's Rescue for Animals. With the help of this donation, Kate's Rescue has been able to rescue and save 680 dogs this past year. Not only have we been able to help healthy dogs, but we've also had the funds to provide aid for dogs with special medical needs. An example of this is Oscar. Oscar came to us from the Stanislaus County Animal Shelter where he had been picked up as a stray with a badly broken leg. Oscar was in desperate need of prompt medical attention and thanks to the donation from Subaru, we were able to provide him with just that. After an attempt to save his leg, he ended up needing amputation surgery. Fortunately, Oscar was young and otherwise healthy, which allowed him to recover quickly. Soon, he was running around and having fun with his foster sister. Oscar is now loving life with his forever family, where he enjoys going on hikes, playing at the beach, and cuddling with his new fur brother after a busy day. Thanks to the donation from Modesto Subaru's Share the Love Event, all of this and much more has been made possible. We can't thank you enough for all you have done for Kate's Rescue for Animals.
---
Edible Extravaganza loves Modesto Subaru - Diana G
For the past 2 years, Center for Human Services (CHS) has been honored to have Modesto Subaru as our VIP Lounge Sponsor for our annual fundraiser, Edible Extravaganza. This is our signature fundraiser and features local restaurants, caterers, and other food vendors Stanislaus County and beyond has to offer. The partnership and friendship we have with Modesto Subaru has had a great impact on this annual event. This year, our VIP Lounge was a nice attraction for event guests and offered exclusive food vendors, live music and comfortable seating. Proceeds raised through Edible Extravaganza go directly into programs that strengthen youth and families throughout Stanislaus County. We offer a wide variety of services in the areas of prevention, intervention, treatment, shelter and counseling services. Programs such as Hutton House, our shelter for youth experiencing crisis, or our Pathways program that provides transitional housing for homeless young adults are just an example of the many ways that Center for Human Services strengthens the community. We cannot thank Modesto Subaru enough for their continued support, not only with Edible Extravaganza, but also with the Share the Love event, and many, many more ways that they show up for CHS and others in the community. WE LOVE MODESTO SUBARU!
---
Subaru Loves Modesto All Year Long! - Aubree T
Our partnership with Modesto Subaru has made a tremendous impact on our organization and community! We are so thankful for Modesto Subaru supporting and being involved with Love Modesto year round! The partnership we have helps us with all of our yearly events, including our annual volunteer event, where over 7,250 volunteers participate (including many Subaru staff and their family/friends) in service projects around our community! The sponsorship also allows us to be able to put on our annual Christmas Comfort Kit Drive, where we pack 1,000 backpacks with many useful items that will be given to children who have just been uprooted from their family. Subaru truly does Love Modesto and loves help our community, we cannot thank you enough for the continued support and generosity!
---
Subaru & LLS Partner for Cancer Patients - Erica B
LLS staff pulled up to the brand new Valley Children's Hospital in Modesto. While awaiting for our friends from Modesto Subaru, Erica Brown and Jenaye Shepherd were in awe over the new facility. It didn't feel or look like a cancer center. There were rooms for children to explore, a big giraffe that welcomed you, water features that changed colors at a push of a button, a colorful outdoor area. The design was modern and clean. The building hasn't even been open for more than a year. Subaru pulled up with a brand new car and were excited for the opportunity to impact the lives of cancer patients within their community. They pulled out the boxes of blankets and arts and craft kits and set up a great photo opportunity outside with their Subaru and the cancer center in the background. "What are you all doing?" someone asked on their way into the building. Without hesitation, Subaru shared their story with the guests visiting the hospital. We brought the blankets to the beautiful, peaceful lobby of the building and set up in front of the giraffe. Our Honored Hero, Aliza from Atwater, and her Mom joined us for this special occasion. She got to meet Subaru and we all celebrated her eight years being cancer-free! Dressed in her Team In Training attire, she posed happily with the staff and Subaru. The nurses were so excited and grateful for the donations of blankets. They picked out a few of the messages of hope to read, and thought how meaningful it will be to not only give a patient a warm blanket, but a message of hope to hold onto.
---
Modesto On Ice Presented by Modesto Subaru - Andrea M
Back in 2014, we came up with an idea that raised eyebrows. Having an ice rink here in California's Central Valley, where we're not exactly known for our sub-freezing temperatures. Part of our inspiration came from our own three daughters and a desire to provide a place where people of all ages in our community could have a safe, fun place to gather. Our dream was to create a destination where everyone could come and have fun throughout the winter season – even if they weren't skaters. We knew it could be a place for birthday parties, company team building activities, family get-togethers, and memorable dates. We also knew our vision couldn't become a reality without the help of sponsors! We approached Modesto Subaru in June 2015 and Chris Godden and his team were wholeheartedly on board from the beginning. In fall of 2015 Modesto Subaru officially signed on as the Title Sponsor of Modesto On Ice, and what an amazing partnership it has been! Without the commitment and investment in our community from Modesto Subaru, the rink wouldn't have been possible. Four seasons later, Modesto On Ice has become a go-to-destination, a place for field trips, family outings, date nights, and company gatherings. Skaters and spectators line up for fun, for steaming loaded hot chocolate, for music, special events and more. As we prepare for our 5th season, we at Modesto On Ice reflect back over the countless, lasting memories that have been made at the rink and we are so grateful to Modesto Subaru for their continued investment in our community and for helping to make possible a crazy dream of a rink in the Central Valley where people of all ages could gather for safe, family fun. Cheers to 5 Years! Jerome & Andrea Murray
---
MODESTO SUBARU SHARES THE LOVE AT MODESTO SYMPHONY - Erin N
The Modesto Symphony Orchestra is proud to partner with Modesto Subaru as we work to fulfill a common mission – making a positive impact on our community and the lives of its people. Over our 88 year history, the Modesto Symphony has aimed to enrich lives and enhance our community's vitality through music. Our ability to fulfill our mission is due in large part to support from local businesses such as Modesto Subaru. Through our partnership, Modesto Subaru sponsors Picnic at the Pops, our annual outdoor concert held on the grounds of the E. & J. Gallo Winery. Picnic at the Pops attracts nearly 4,000 people from throughout the region for an afternoon of music, food and family fun in a picnic environment. Before the concert, you'll see patrons greeting recognizable faces across the crowd and it's a great reminder that this truly is a community event. This year on September 7th, the Modesto Symphony will take the stage with The Classical Mystery Tour to perform a tribute to The Beatles featuring all of your favorite hits. Picnic at the Pops not only entertains, but attracts and exposes new people to the Modesto Symphony and the many education programs we offer including our Youth Orchestras and Choruses. For many, Picnic at the Pops is an introduction to an orchestral concert and we are committed to making it accessible to all and to keep music education viable to our community. We extend our gratitude to Modesto Subaru for sharing our values – in their unwavering dedication to improve the world and lives of its people.
---
Four Legged Friends Get Love at Modesto Subaru - Julia S
Clearly Modesto Subaru believes in the power of good work! They demonstrated their commitment to giving back to the community by hosting an event and raising donations for our local dog rescue, Kate's Rescue. We work hard to help at risk pets and place them in new forever homes. Last November, Modesto Subaru hosted an adoption event for us at their dealership. Cute doggies were the highlight of the event, but the Taco Truck was a close runner up. Modesto Subaru encouraged the community to donate much needed pet supplies, and to our immense gratitude, presented us with a $5,000 check. Modesto Subaru, like Kate's Rescue, believes in working hard to make a positive impact on our community. The donated funds and supplies allowed us to help even more at risk animals. Modesto Subaru...we feel the love! We couldn't be prouder that you are also past adopters through the rescue and are fantastic and dedicated pet owners. What better way to Share the Love!
---
Adults with Disabilities Love Modesto Subaru! - Carla S
Sitting in the showroom of Modesto Subaru, I was there to purchase my 3rd Impreza from them, and happen to see advertising in the lobby reflecting the non-profits they had contributed to in our area. The first question in my mind was, "why isn't Howard Training Center included?" It didn't take me long and I was asking it out loud. That lead to an introduction to Chris Godden. Howard has been providing services to adults with disabilities for over 66 years in Modesto/Stanislaus County. 250 adults are provided the opportunity to learn job skills in landscaping, food service, janitorial and business operations. Another 125 are in day programs learning basic personal care skills. We are dedicated to working to educate and prepare our clients to become an active part of the competitive workforce competing with the non-disabled for the same jobs. Along the way we focus on providing them with life skills allowing them to live independently and being a vital member of our communities. They are extremely proud of what they learn at Howard, it all allows them more independence than they would otherwise have. Meeting with Chris resulted in a commitment for them to support our 25th Annual Crab Feed fundraiser in February 2019 as a sponsor. As you can imagine transporting 125 clients to work sites takes a lot of vehicles, which results in a lot of repair and maintenance costs. Modesto Subaru has blessed Howard Training with a commitment to complete general repairs at no cost and larger repairs at a large discount. In the first 3 months it totaled in excess of $4,000. That left management with $4,000 more to provide other services to our clients that we would otherwise not have been able to do. We have a driver who leaves our facility at 3:30 am each day and finally returns after 9 pm every night. I cannot put my staff in danger, alone on the road in a vehicle that is very likely to break down. Safe, reliable transportation for one of the most vulnerable segments of our community, that is what Modesto Subaru has given us. I cannot thank Chris and his staff enough for what they have given to our clients. While their contribution doesn't cover all the costs, as a non-profit we learn quickly that every dollar donation is vital to the continued success and growth of Howard. Where will I buy my next vehicle? Where will I tell people to buy their vehicle?Nowhere other than Modesto Subaru! Thank you more than you know.
---
A Benefit Concert for Victims of the Camp Fire - Kirstie B
On March 1, 2019 The State Theatre held a benefit concert to assist those burned out of Paradise, CA during the Camp Fire. Modesto Subaru was the signature sponsor of the event and stepped up without hesitation. That evening we drew 600+ people to a sold out concert (which included more than 20 musicians on stage) and raised $30,000.00 to assist those who lost everything in this tragic fire. Modesto Subaru is a valued and treasured community partner and we appreciate everything they did to make this event a success.
---
Love is in the Air - Denise H
Modesto Subaru is more than just a dealership; they are family! One GREAT big family of fun and dedication that makes a tremendous difference in our community. Haven Women's Center of Stanislaus is proud to be a part of this family, and we cannot thank them enough for all of their hard work, because it isn't easy to walk in those red high heels! As our Walk a Mile in Her Shoes title sponsor, Modesto Subaru's commitment is essential to our success. Helping to ensure Haven's vital services continue without interruption and making sure our message is heard. Thank you Modesto Subaru for all that you do, for the LOVE and the energy your team delivers every year, we couldn't do it without you. Modesto Subaru- you ROCK!
---
Environmental Partnership - Rhonda A
This spring Modesto Subaru helped sponsor a wonderful educational and environmental program at the La Loma Native Garden with the first annual Modesto Pollinator Festival. Subaru shared the vision of educating families about the important role pollinators have in our environment. The event brought out about 500 people. Subaru provided free flower seeds and environmental information to attendees helped fund a pollinator mural in the children's garden to educate community members about a variety of native pollinator species, as well as the purchase of several native plants for the garden. Their enthusiasm for nature was obvious by their eager involvement. Having the support from this outstanding business has brought increased attention and respect to the important role of the native garden in our community, as well as creating a partnership that models their dedication to the environment. I am so appreciative of their commitment and high standards of involvement in the community. The company's motto is well served by Modesto's Subaru employees. The pollinator festival is one more example of their contribution to making a positive impact in Modesto. Thank you to all of Modesto Subaru staff, who are so wonderful to work with. We can't wait till next year for the Second annual Modesto Pollinator Festival! Rhonda
---
Modesto Subaru leads with their heart - David R
From all of us at Interfaith Ministries and the low income community we serve....THANK YOU, THANK YOU, THANK YOU...Modesto Subaru. Not only was Modesto Subaru the title sponsor for our 2nd annual signature event, Feast for the Eyes, they also funded a full month for our Free Mobile Farmer's Market!! Incredible. Then, In June of 2019, Modesto Subaru chose Interfaith Ministries for the Subaru Loves to Help campaign. For each test drive Modesto Subaru donated $$ to help our Food Pantry, and they also collected non-perishable food that we then passed on to help the community. Modesto Subaru does things the right way, for the right reasons, and they lead with their heart.
---
Subaru/ Modesto Subaru Share the Love- Gina M - gina m
CHS loves Modesto Subaru!! We are beyond grateful for the partnership and support that we have received from Subaru and especially Modesto Subaru. Modesto Subaru has chosen us (now five years in a row) as their local charity for the Share the Love event. During Share the Love, anyone who bought or leased a new Subaru from November 15, 2018- January 2, 2019 was given the option to have Subaru of America donate $250 to a charity. Center for Human Services created another music video to "Give a Little Bit" in partnership with the the Modesto Subaru staff and was featured on Facebook and Youtube (you can see the video here). This year, Modesto Subaru raised over $60,800 during Share the Love. The money raised will go to provide direct support to our Pathways program, a transitional living and supportive services program for young adults experiencing homelessness. Modesto Subaru continuously embodies what it means to have a BIG HEART giving generously to us and to this community. Thank you!
---
HAVEN Heroes - Denise H
For the past several years Modesto Subaru has partnered with Haven Women's Center to bring Walk a Mile in Her Shoes to downtown Modesto. This community awareness event on the impact of sexual assault is HAVEN's largest fundraiser and it would not be the same without the support and enthusiasm that the sales team and management bring while strutting in their red high heels! As a sponsor of this event, Modesto Subaru plays an intricate part in helping us to ensure that HAVEN's services continue without interruption. It takes a team of like minded individuals to make a positive influence on the work we do. Thank you, Modesto Subaru, for standing with HAVEN, and aligning Love Promise to those we serve. We greatly appreciate all that you do!
---
Modesto Subaru Love Shared in Neighborhood - Rhonda A
Much appreciation to Modesto Subaru for supporting La Loma Neighborhood's dream of developing a native plant garden on a neglected piece of property. Their team of employees provided labor and time to plant, spread rock and mulch and whatever work needed to be done. Modesto Subaru also donated funds to help with the cost of irrigation supplies, acquiring boulders for landscape enhancement, and even a dog waste station for the neighbors to use. Their support made a huge difference in the success of the project! We are grateful for their commitment to the environment, as the native garden provides a habitat for native pollinators and showcases the value of native plants to our community. Modesto Subaru has an outstanding staff, who work hard to share their commitment to improving our community. Thank you for all your support!
---
Modesto Subaru Shares the Love - Jessica I
Our partnership with Subaru and Subaru of Modesto is one of our most valued relationships. Not only do we appreciate them as partners and donors, but we appreciate them as friends who sincerely care about our community. From November 16, 2017 to January 2, 2017, Modesto Subaru participated in Subaru of America's Share the Love Event. During Share the Love, anyone who bought or leased a new Subaru was given the option to have Subaru of America donate $250 to charity. For the fourth year in a row, Modesto Subaru selected Center for Human Services (CHS) as their local charity. CHS' marketing team produced a music video to "Put a Little Love in Your Heart" (inspired by the national campaign) that starred Subaru and CHS employees and was featured on Facebook and YouTube (you can see photos of us making the video here). We had a blast dancing and singing with the Modesto Subaru staff! This year, Modesto Subaru raised close to $61,000 during Share the Love and we are so grateful. The money raised helped support Pathways, CHS' transitional living program for homeless young adults. The transitional living shelter housed 28 young people throughout the year. During their time with us they received job readiness training and support, life skills classes, mentoring, counseling, and more. This was made possible, in large part, due to the support of this event. We cannot thank Modesto Subaru enough for their continued generosity, friendship, and passion for improving our community.
---
Subaru Loves Modesto - Jeff P
Love Modesto and Modesto Subaru have teamed up to benefit the community. We are excited to to have Modesto Subaru as part of our team and involvement in a year long partnership starting on April 21st. We are looking forward to the partnership this year with Modesto Subaru heading up many amazing projects such as the La Loma Native Plant Garden, Beautify Home for a Senior Citizen in Need and the Dry Creek Clean Up. To show their support Modesto Subaru has wrapped a Subaru Outback for us to take out to our community events. We are collecting signatures on the vehicle and with each signature Modesto Subaru with donate $1 back to the Love Modesto cause. #SubaruLovesModesto
---
Subaru and NWF Loves the Garden - Heather F
Students watering the garden.
---
Modesto Subaru Shares the Love - Kate T
From November 17, 2016 to January 3, 2017 Modesto Subaru participated in Subaru of America's Share the Love Event. During Share the Love, anyone who bought or leased a new Subaru was given the option to have Subaru of America donate $250 to charity. For the third year in a row, Modesto Subaru selected Center for Human Services (CHS) as their local charity. This year, Modesto Subaru also provided a wrapped car for the event which we drove around the county collecting signatures from community members and friends of CHS. This year, Modesto Subaru raised over $55,000 during Share the Love and we are so grateful. This donation will make a real impact in the lives of youth and families in our community. In addition to the money they raised for CHS through Share the Love, Modesto Subaru donated $2500 for the signatures collected on the car. We cannot say thank you enough to Modesto Subaru for their continued support, generous spirit and passion for improving our community.
---
beyond the promise - James L
2013 Forester; 56K miles; oil consumption issue. Modesto Subaru handled the entire experience with class. From explanation; "testing"; replacing short block; handing me a 2017 Outback loaner for the duration. All with courtesy and a smile. Amazing service (I've been driving 40 miles for 4 years for oil changes etc and don't regret a minute of it). Modesto Subaru Service Department "models" great service and recovery!
---
Subaru Shares the Love - Kate T
For the second year in a row Modesto Subaru participated in Subaru of America's Share the Love event. Anyone who purchased or leased a new Subaru during the campaign was given the option to have Subaru of America donate $250 to charity. Center for Human Services (CHS) was Modesto Subaru's hometown charity once again and we couldn't be more grateful. Because of the commitment from their sales staff and General Manager, they recently presented us with a check for over $50,000. This is far and above what they did last year. Over $40,000 was raised by Modesto Subaru and because they performed so well, Subaru of America added another $10,000. For us, funds like these are critical. Often, the grants and contracts that make our work possible fall short of fully being able to meet our internal needs and the needs of youth and families we serve. These funds will immediately impact the lives of youth and families throughout Modesto and Stanislaus County through our 2 shelters, prevention and education programs, mental health counseling, drug and alcohol treatment programs, and family resource centers. This partnership remains strong. The love and commitment we feel from Modesto Subaru is mutual. Subaru clearly understands the importance of corporate philanthropy and everyone who works there gives back in some way. To all of you, thank you for sharing the love. The lives of many youth and families will be changed because of you and your generous customers.
---